Spring Cleaning Opportunities Promote Environmental Stewardship and Service-Based Learning
Spring Cleaning Opportunities Promote Environmental Stewardship and Service-Based Learning
Western Massachusetts is filled with beautiful and well-preserved public natural spaces. With the arrival of spring comes the triumphant return of families to parks, trails, mountains, and rivers, whose unique treasures are easier to enjoy in the absence of snow and ice. In preparation for the exodus from indoors to out, local parks and public lands undergo a bit of spring cleaning, so as to ensure that visitors can explore safely in well-maintained spaces. Late April brings a multitude of opportunities to engage in environmental stewardship and service learning, offering community service projects for volunteers of all ages at a wide variety of local parks, trails, campgrounds, and other public outdoor spaces. 
On Saturday, April 30, 2016, the Massachusetts Department of Conservation and Recreation (DCR) celebrates their 10th annual Park Serve Day statewide. Since the event's first year, tens of thousands of volunteers have come together to help maintain and preserve state-run public lands, helping to ensure that these treasured spaces continue to be accessible and beautiful for years to come. While Park Serve Day events will he held statewide, local families can engage in service learning at one of five different properties, choosing based on location or skills and interests. At Chicopee Memorial State Park, families can help with general park clean-up, which will likely include removing debris, collecting litter, and doing general maintenance. In Turners Falls, volunteers can help the Great Falls Discovery Center prepare for spring by mulching and preparing garden beds, cleaning up litter and leaves, and doing light yard work. Volunteers at the Pittsfield State Forest can help to trim trails, remove limbs, and stain picnic tables, while volunteers at the Savoy Mountain State Forest can help to prepare campsites for summer use. Native low-bush blueberries will be planted alongside the Norwottuck Rail Trail in Hadley.
In order to participate in service learning on Park Serve Day, participants must register for a specific project and sign a waiver. Some projects are only appropriate for certain age groups – families should check the DCR's activity descriptions for each location in order to ensure that they will be able to participate.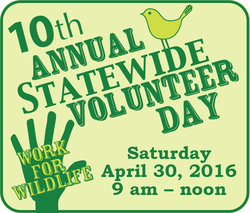 Also on April 30, 2016 is Mass Audubon's Statewide Volunteer Day, offering a host of opportunities for environmental stewardship at sanctuaries and preserves. In the Berkshires, families can help with outdoor spring cleaning at Canoe Meadows Wildlife Sanctuary in Lenox, where volunteers can help to prepare the sanctuary's community garden, take part in meadow habitat restoration, or work to enhance the sanctuary's visitor entrance. In the Pioneer Valley, families can help with general clean-up at either Arcadia Wildlife Sanctuary in Easthampton or Laughing Brook Wildlife Sanctuary in Hampden. All of Mass Audubon's projects will take place from 9am-12noon, and will include the opportunity for volunteers to participate in environmental education presentations with sanctuary staff once projects have been completed. Families must register in order to participate, as space is limited.