Step it Up 2007 in Western Mass
Step it Up 2007 in Western Mass
Step it Up is the largest day of citizen action focusing on global warming in our nation's history. A truly infectious grassroots movement, organized through word of mouth, email outreach and the online community. It was a nationwide campaign comprised of over 1300 actions held on April 14, 2007 as part of a National Day of Climate Action. Many local Western Mass communities participated in the campaign, including Amherst, Cummington, Easthampton, Greenfield, Heath, Northampton, Pittsfield, and Williamstown .
We gathered a lot of information on resources at the Northampton rally …
(click here to see photos) that I'll share & link to below. If you know of any other local resources our community of families would benefit from, or would like to offer a review of any suggested sites, please post below in the comment box.
FOR KIDS & TEACHERS
FOOD
HOME ENERGY
TRANSPORTATION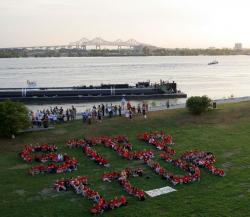 REDUCE – REUSE – RECYCLE
ACTION ALERTS
GENERAL INFO